Aomori Prefecture, part of which our town of Noheji constitutes, is endowed with natural beauty. The town is surrounded by the sea in three directions--the Pacific to the east, the Sea of Japan to the west, the Tsugaru Strait and the Mutsu Bay to the north. To the south lie the Hakkoda Mountains.
Located on the base of the Shimokita Peninsula, Noheji extends along the southernmost part of the Mutsu Bay, commanding a view of the bay on its northwest. Eboshidake mountain stands on the southern part of the town, which also affords a fine view of the Hakkoda mountain range.
Noheji used to thrive as a port of call for Kitamaebune (northbound ships), as shown by its annual Gion Festival and other cultural heritage from those eras.
Noheji has distinct natural features--cherry blossoms, hiba cypress and buna beech leaves in the spring; cool weather due to yamase (a cold dry wind blowing down from the mountains) and swimming in the Mutsu Bay in the summer; the colored leaves on the Eboshidake and Hakkoda mountains in the fall; as well as great enthusiasm among local residents and visitors for skiing and other winter sports. The changes of the four seasons in Noheji are clear-cut, a natural feature that enables people to enjoy themselves throughout the year.
This natural environment is marked by the production of various local specialties, including scallops, small turnips and Chinese yams, flatfish and red sea bream. The delicacies of each season in the town are favored as a real treat.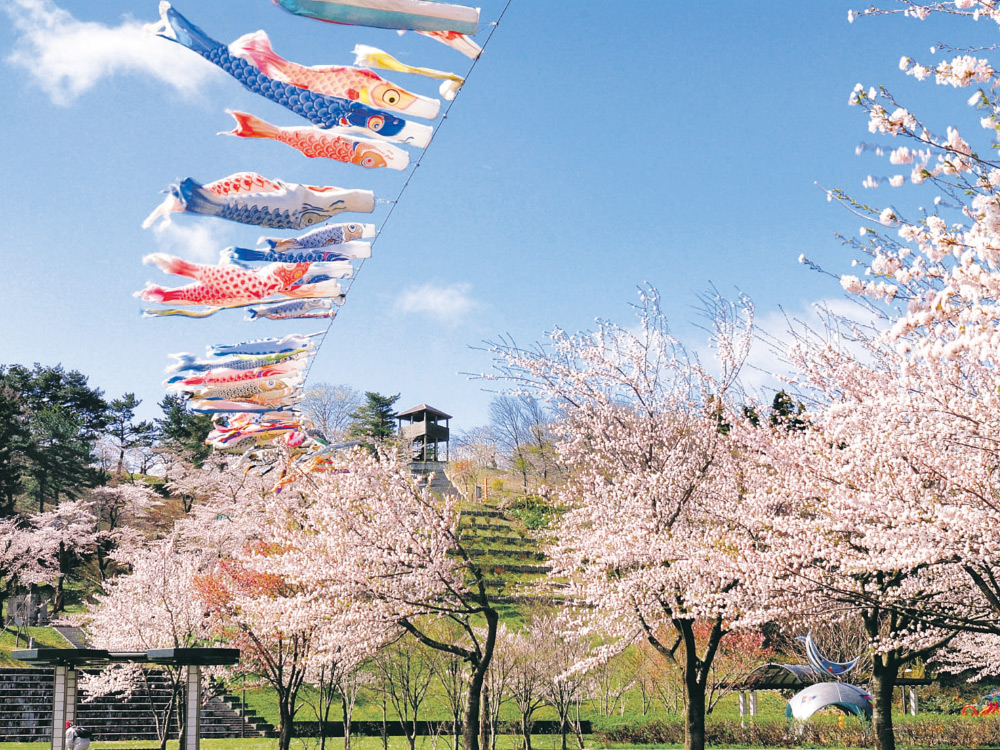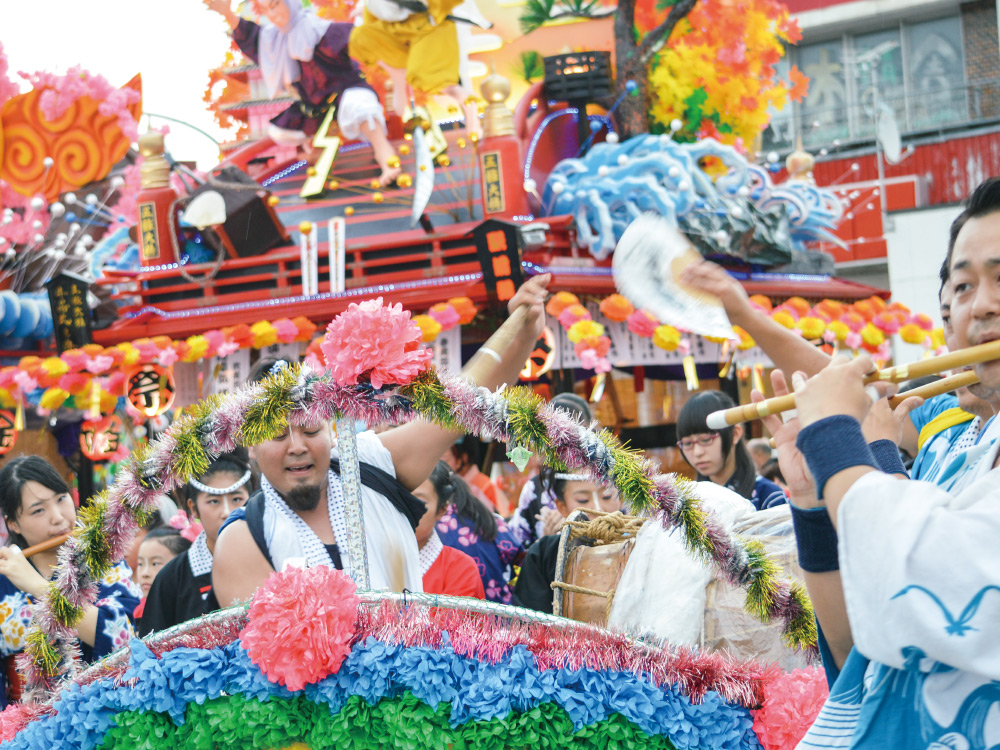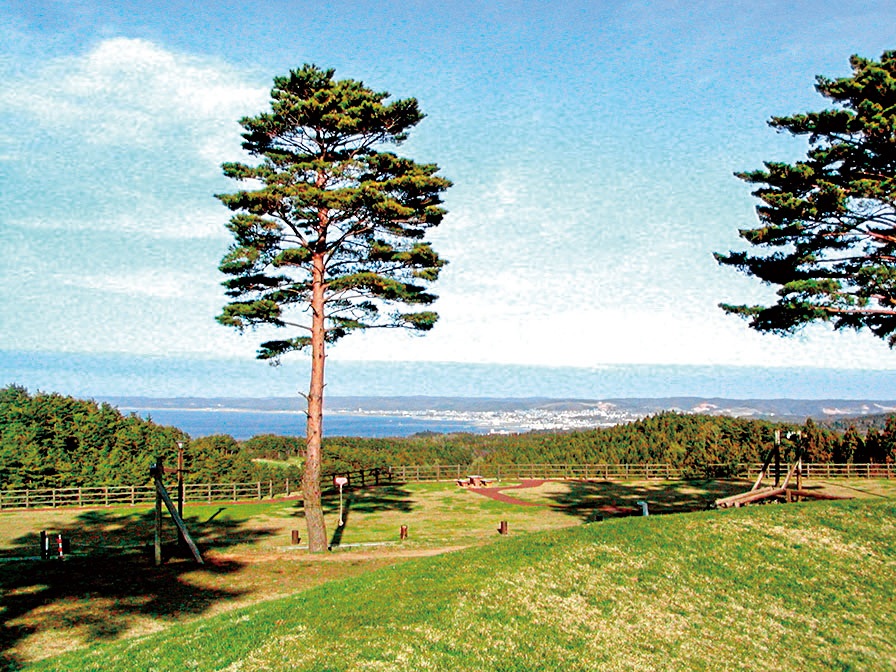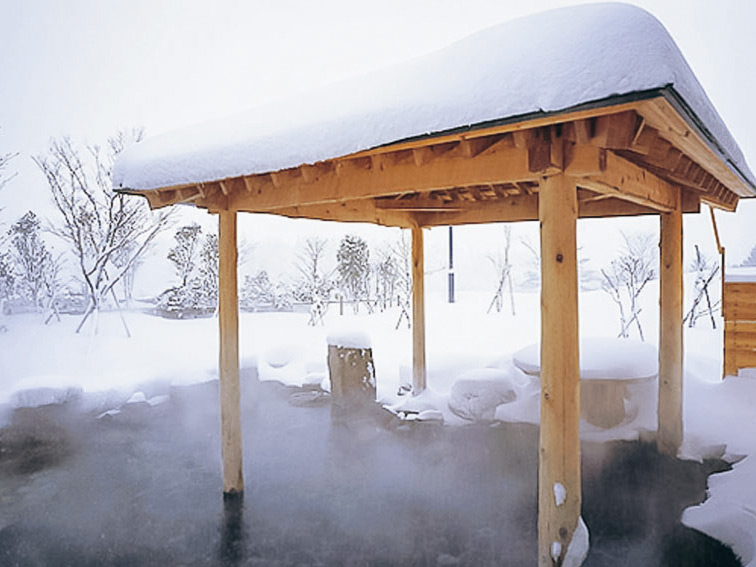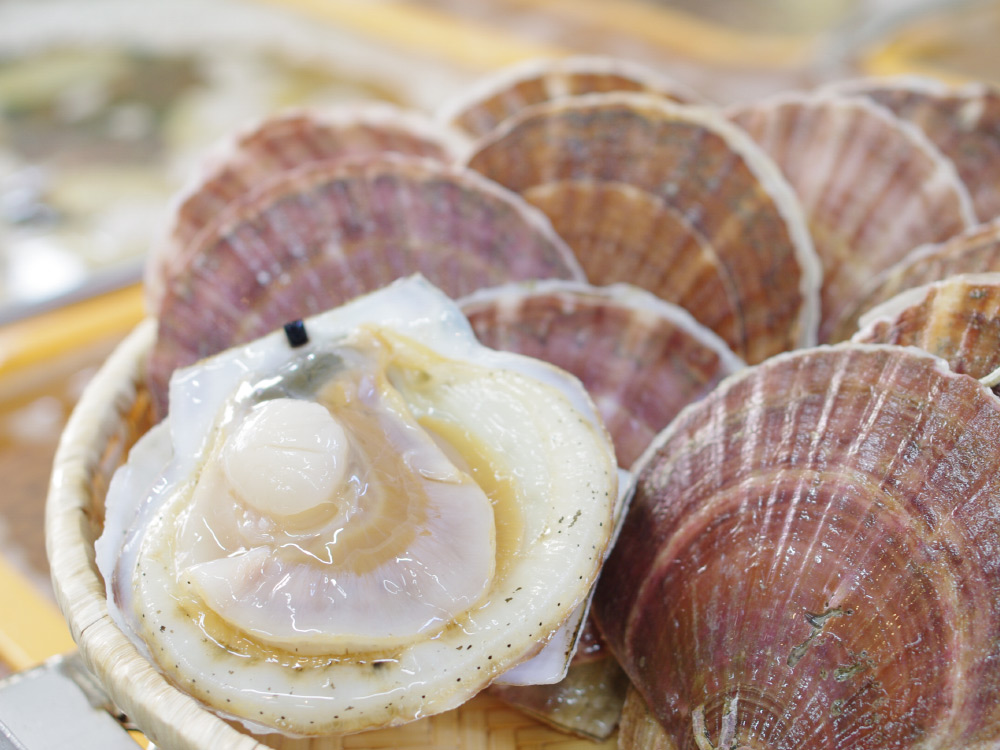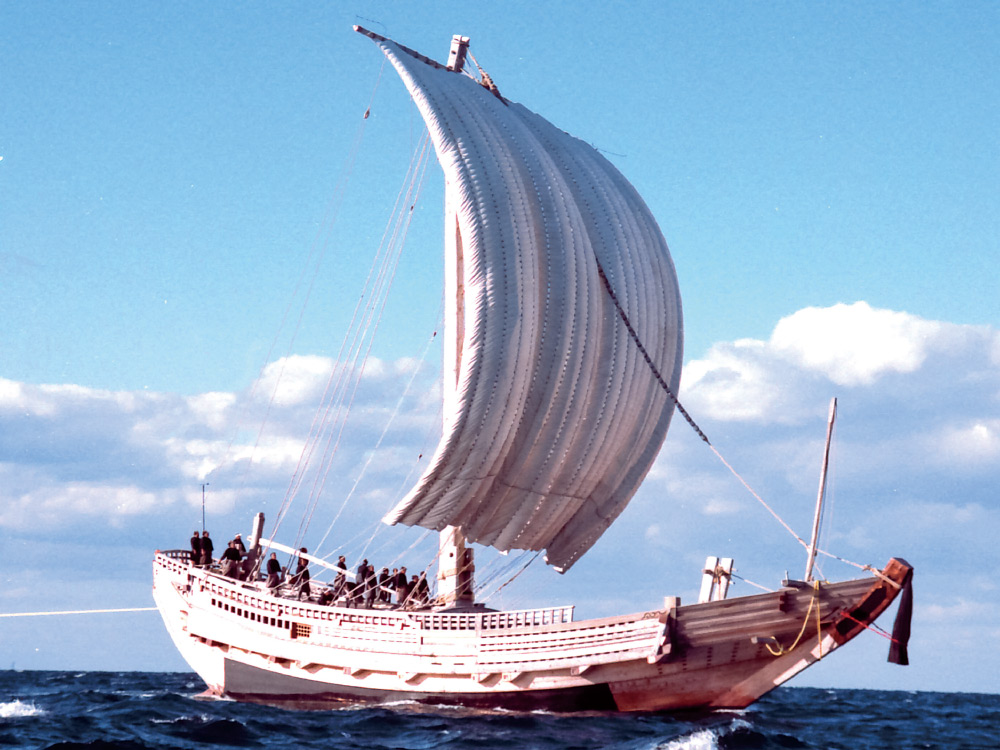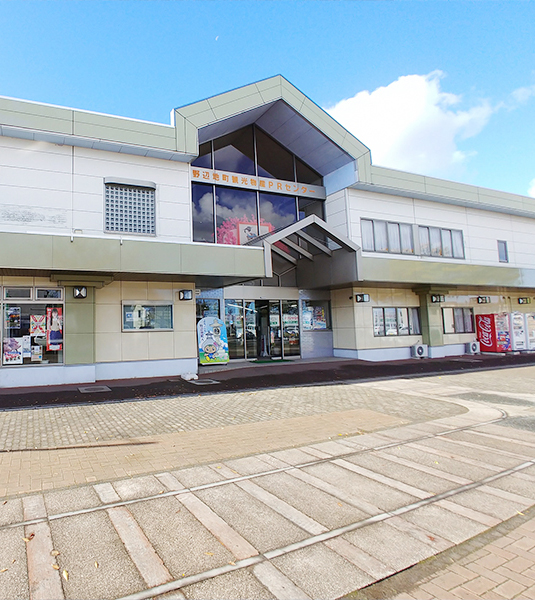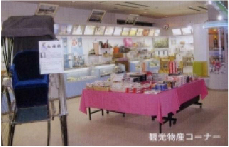 Noheji Town Tourism & Product Promotion Center
17-17, Aza-Nakakonakano, Noheji-machi, Kamikita-gun, Aomori-ken
Phone:
Open from 9:00-19:30

*Closed on New Year's holidays, Dec. 29 to Jan. 1
*Electric bicycles available for rent.
*A tablet PC will soon be set up at the center for the promotion of local tourism, including information about the restored Michinoku Maru ship.
Restored Michinoku Maru
Michinoku Maru is a Kitamae-type sailing vessel of the Benzai-sen style that has been reconstructed by 16 shipwrights as a means of passing down, from generation to generation, the ancient Japanese shipbuilding technology and its history. The ship was used to produce "Tatara Samurai," an acclaimed movie that won the Best Artistic Contribution Award at the 40th Montreal World Film Festival.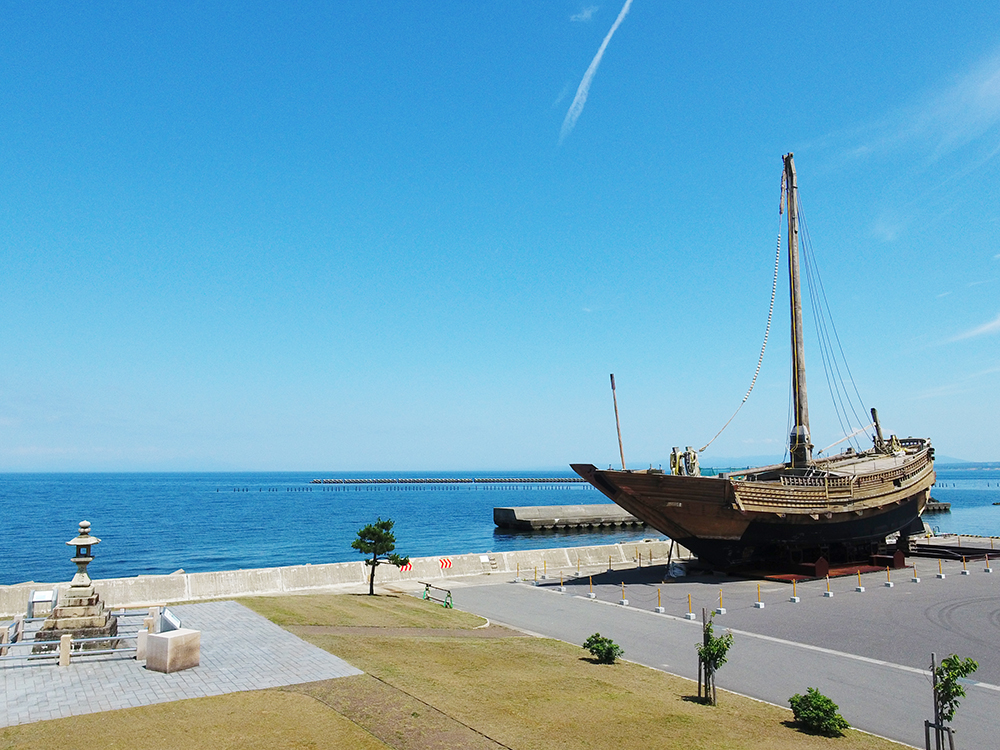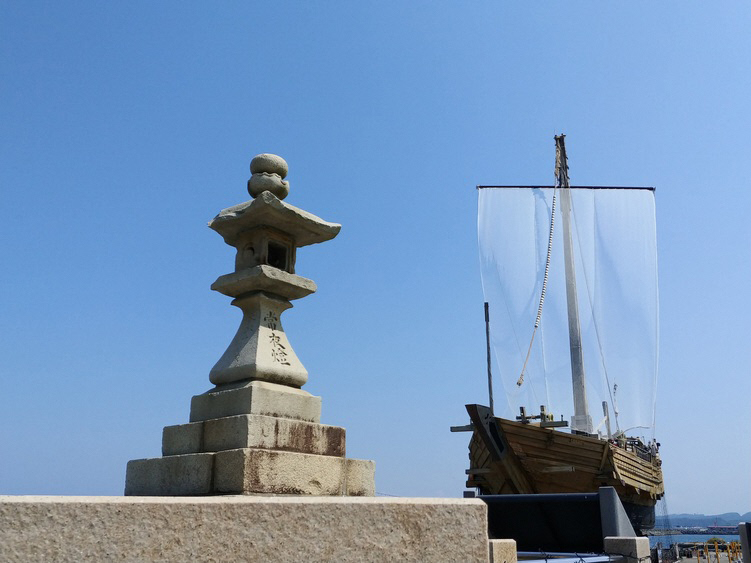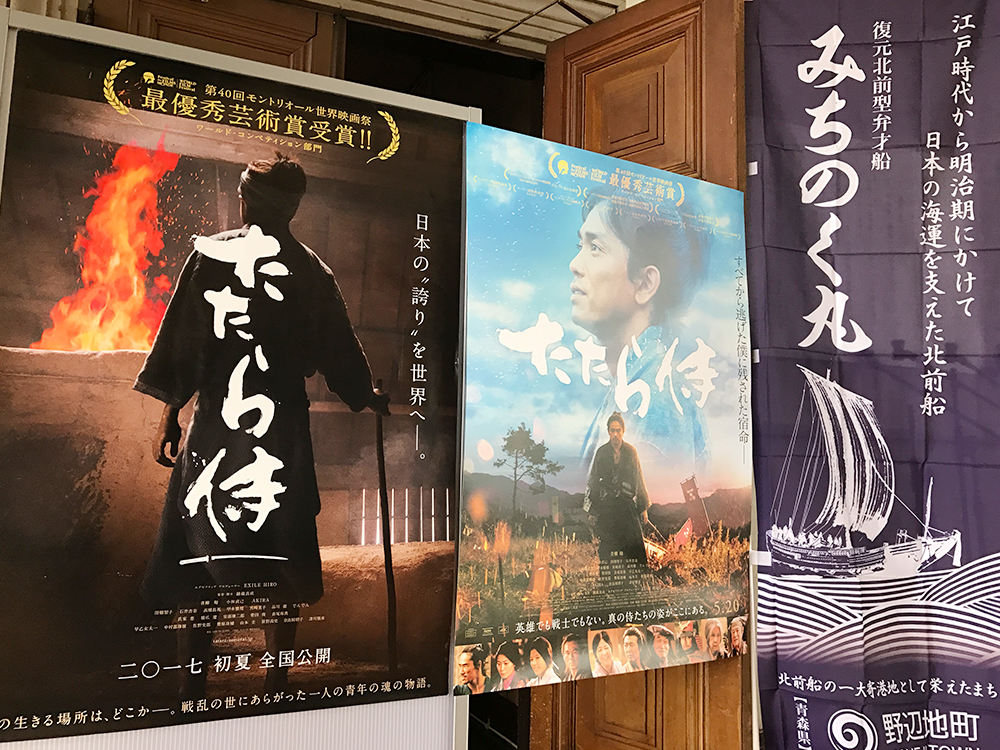 Noheji Iki-Iki Joyato Ichiba
Located next to "Joyato Koen" (night-light park), this market sells farm-fresh products. These include scallops and other fresh marine products, as well as locally produced seasonal vegetables and goods recommended by local business operators.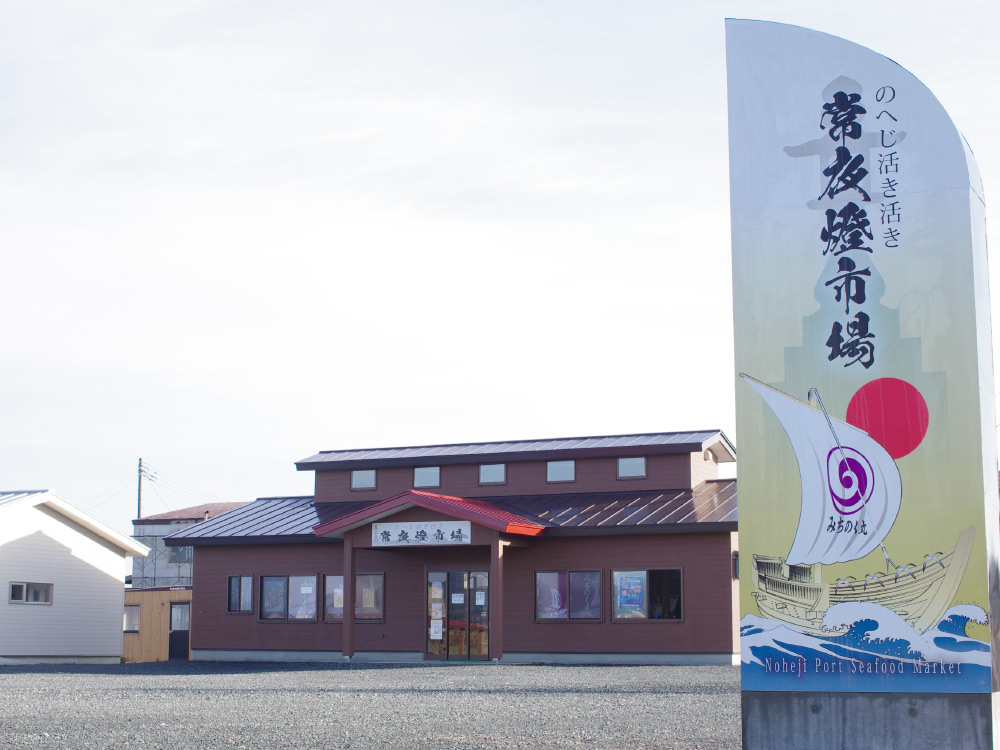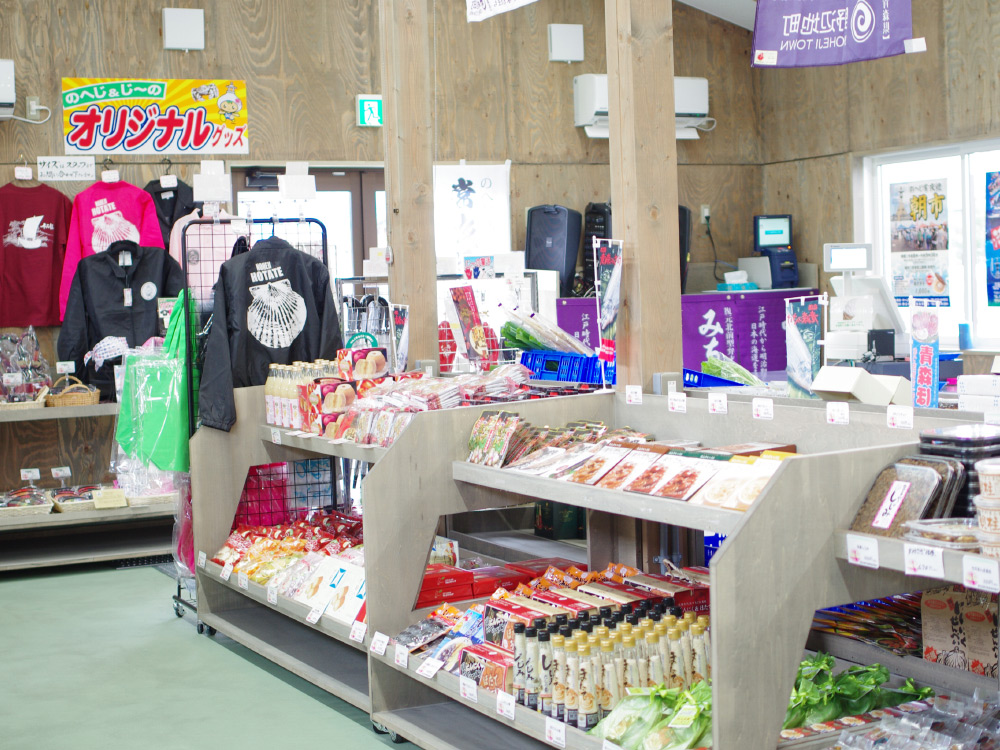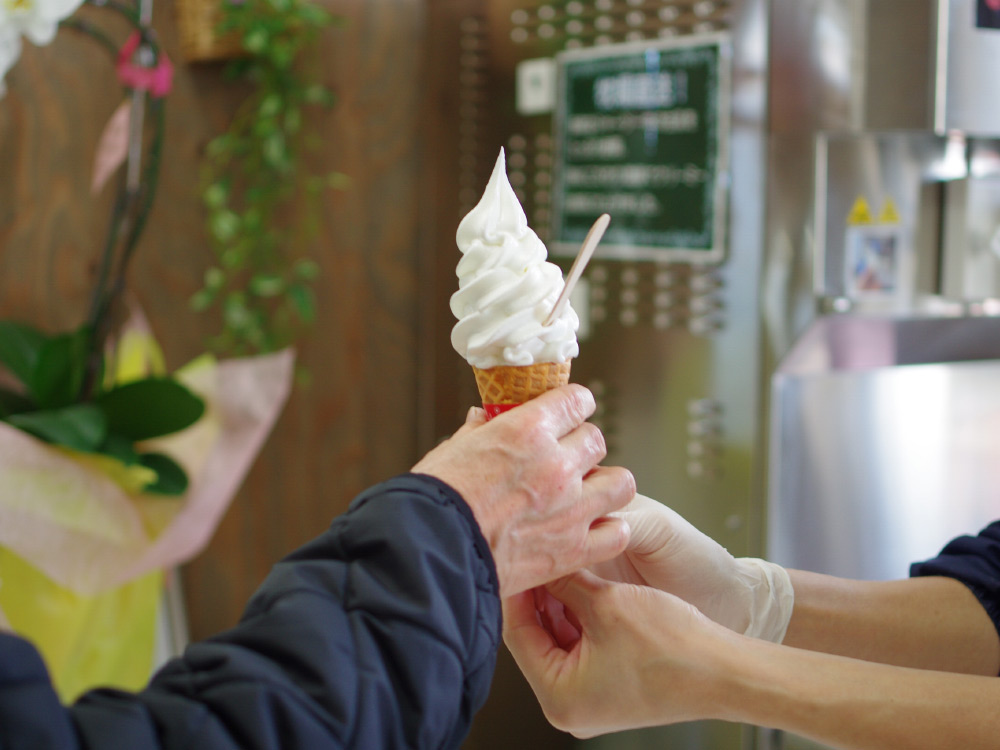 Joyato (night-light)
Joyato was built to guide ships away from danger when they called at and left Noheji. Today, the light serves as a historical monument symbolizing the history of a town that used to prosper as a port of call for Kitamaebune vessels.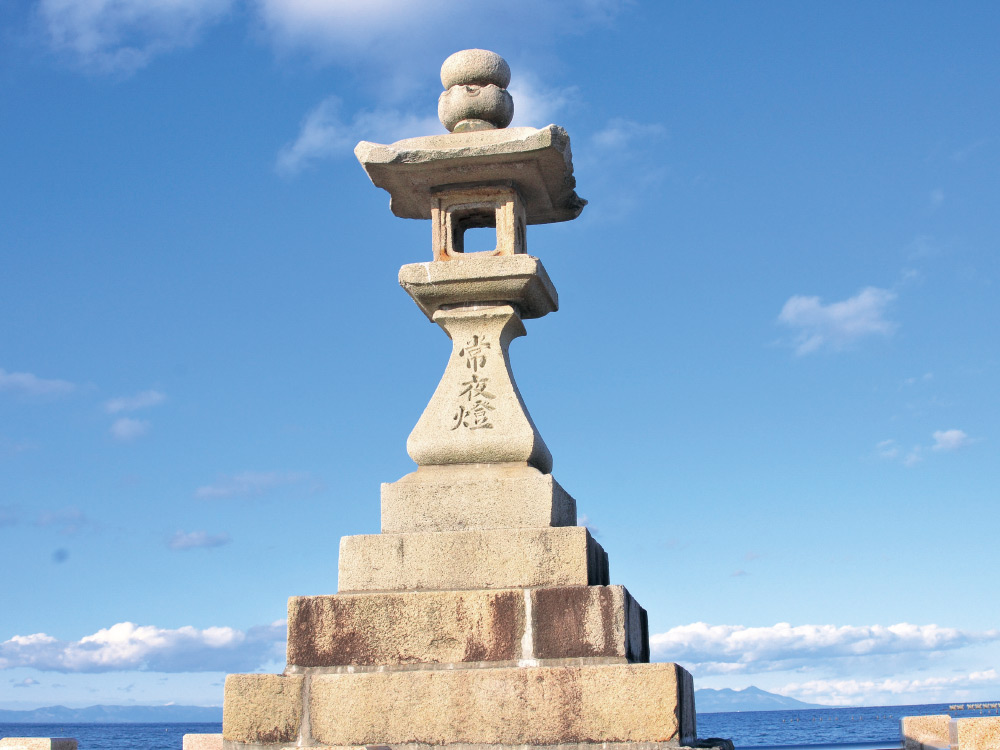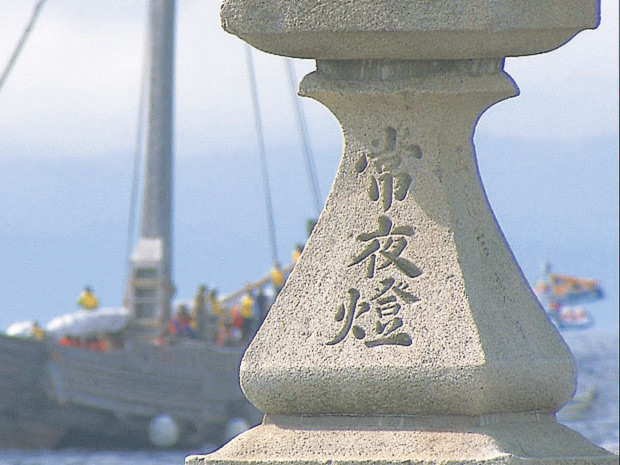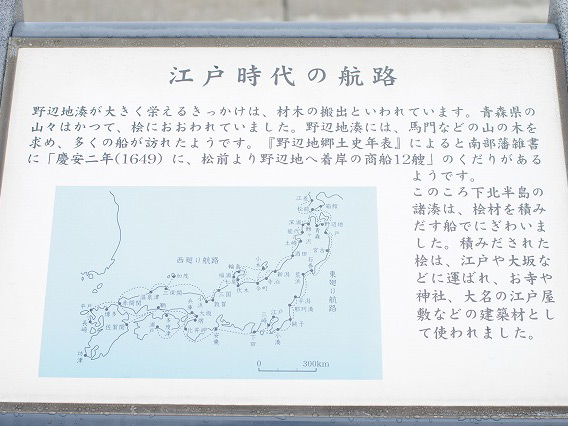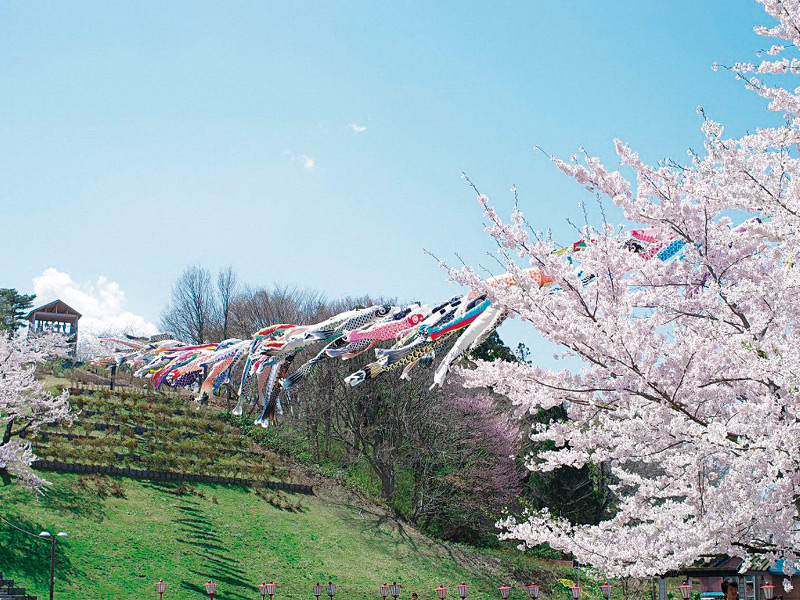 Atago Park
A park on a hill in the town, known as a place of scenic beauty brought out by cherry blossoms.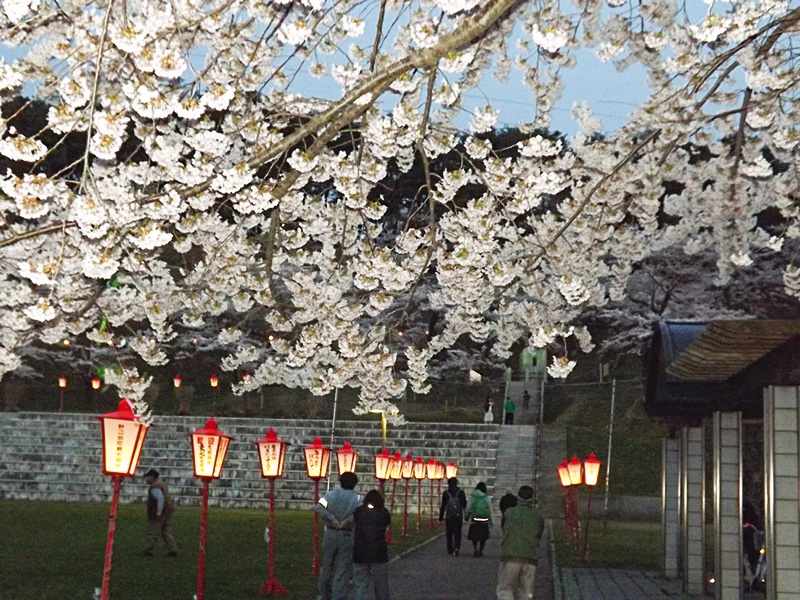 Noheji Spring Festival
A night view of illuminated cherry trees in full bloom can be enjoyed. The annual festival also features various events, including an ekiden road relay.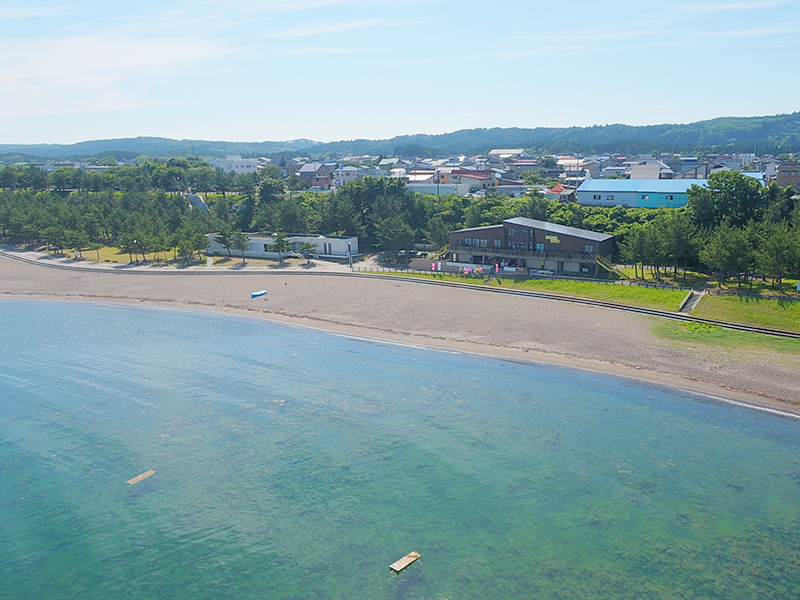 Tofugaura Beach
The Shimokita Peninsula can be seen from this sandy beach.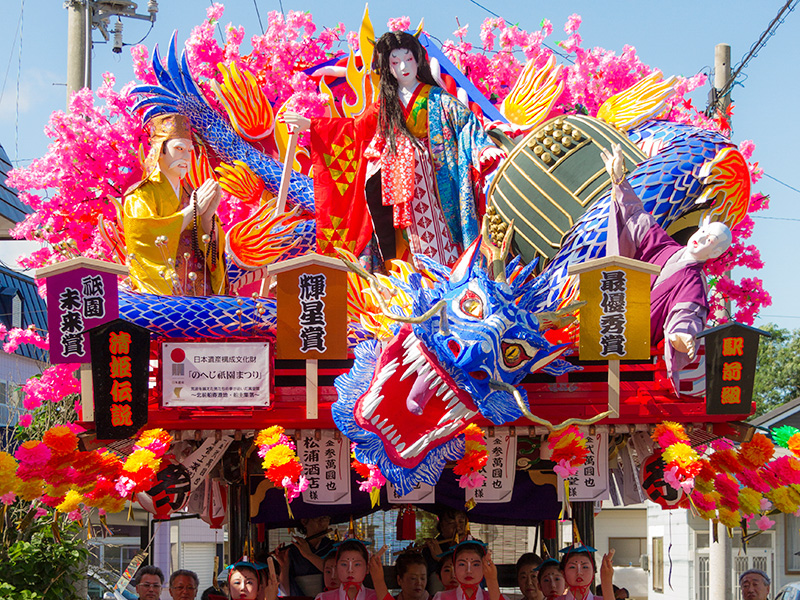 Noheji Gion Matsuri
The largest festival in Noheji, which resembles the Kyoto Gion Festival. The annual summer festival highlights elegant hayashi (festival music) and beautifully decorated floats.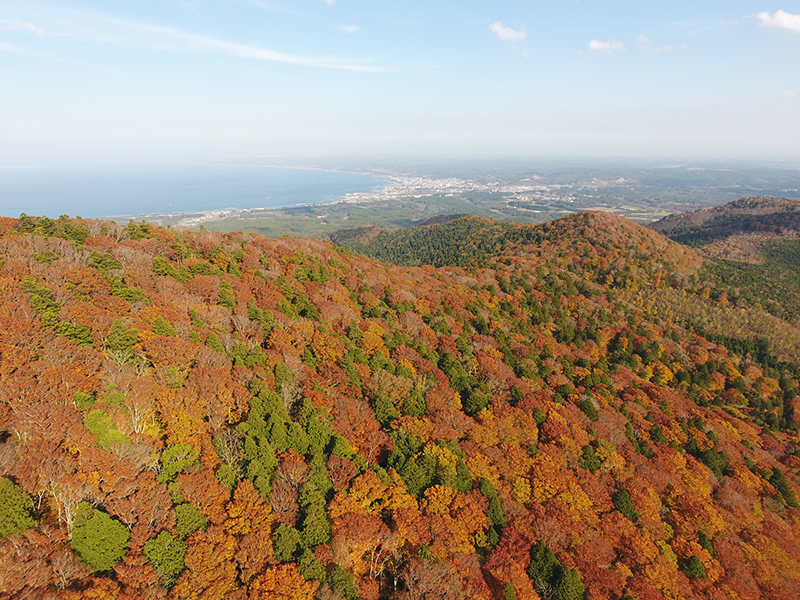 Eboshidake
The highest mountain in the town. During her period of service as U.S. ambassador to Japan, Caroline Kennedy enjoyed climbing the mountain.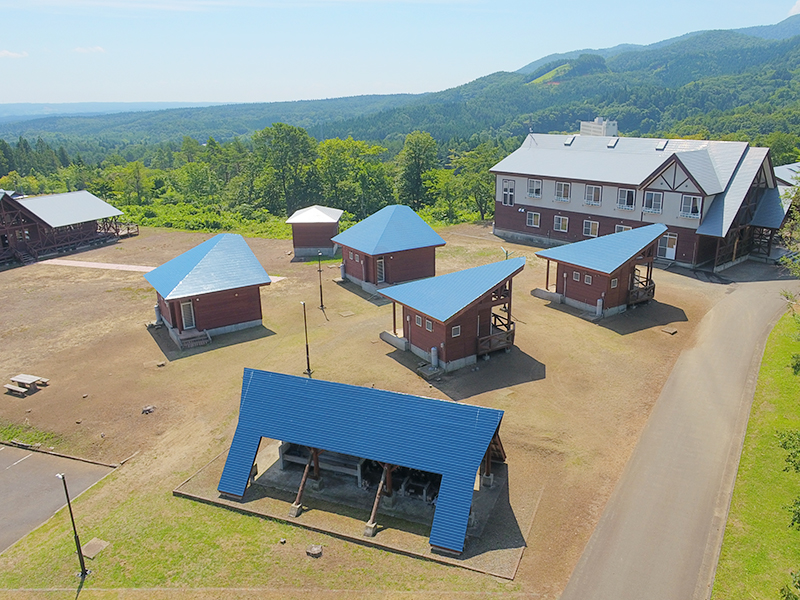 Health and Recreation Facilities in Shibasaki Area
Facilities include camping grounds, cabins and a park golf course.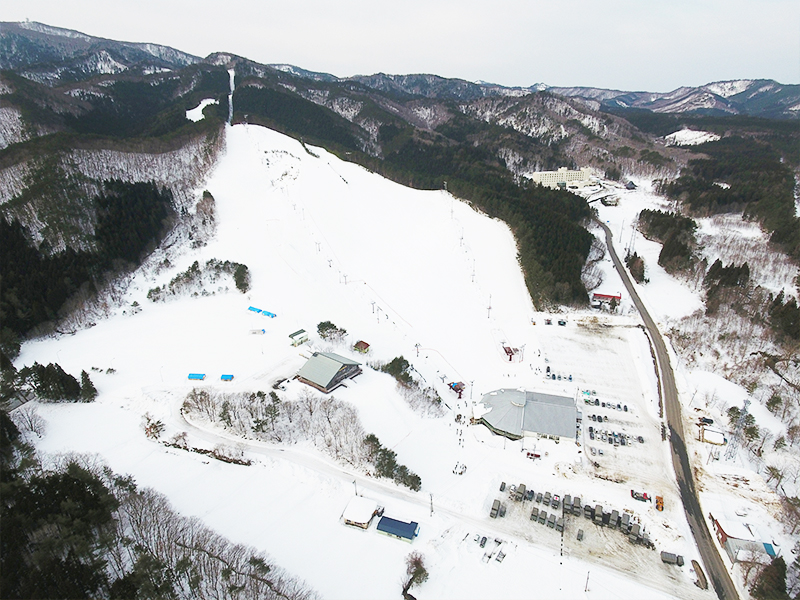 National Noheji-Makado Onsen Ski Resort
Its ski trails command a panoramic view of the Mutsu Bay.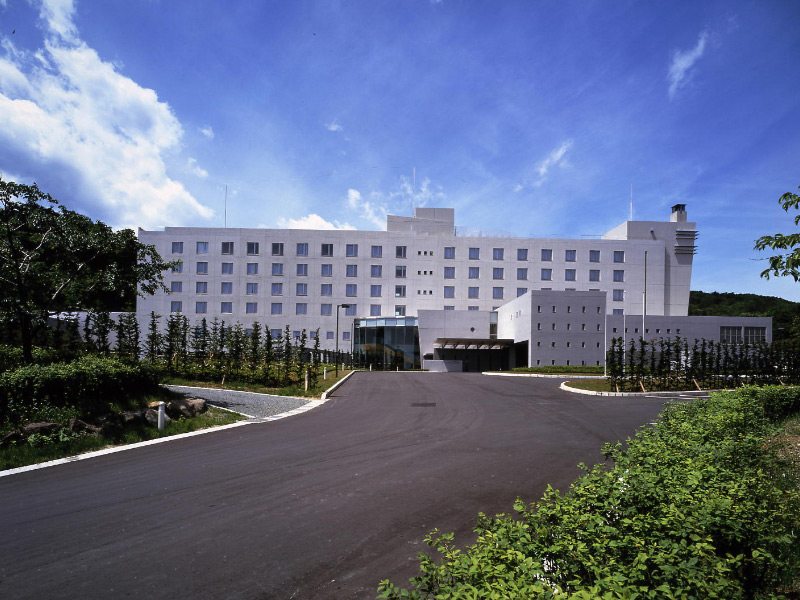 Makado Kanko Hotel
After skiing at a nearby ski resort, guests at the hotel can enjoy a refreshing bath to relax themselves.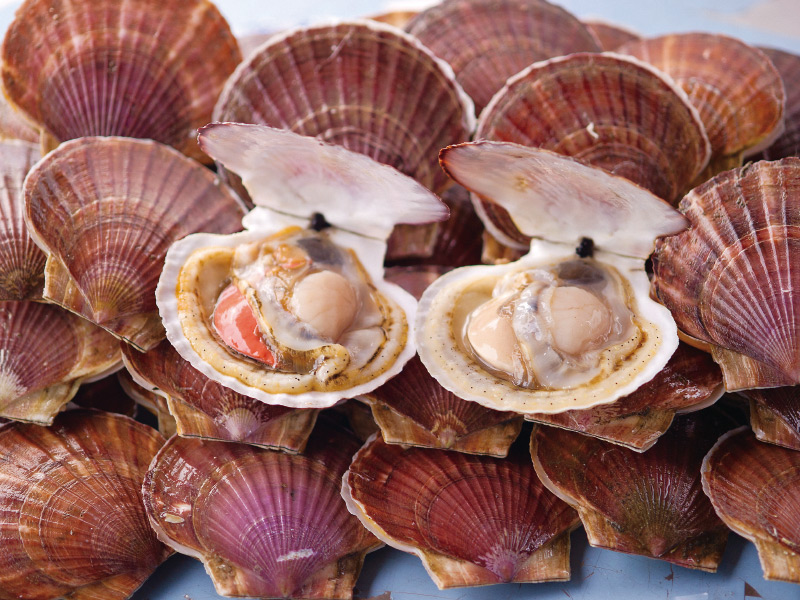 Fresh Scallops
Locally cultivated scallops are large and taste mild.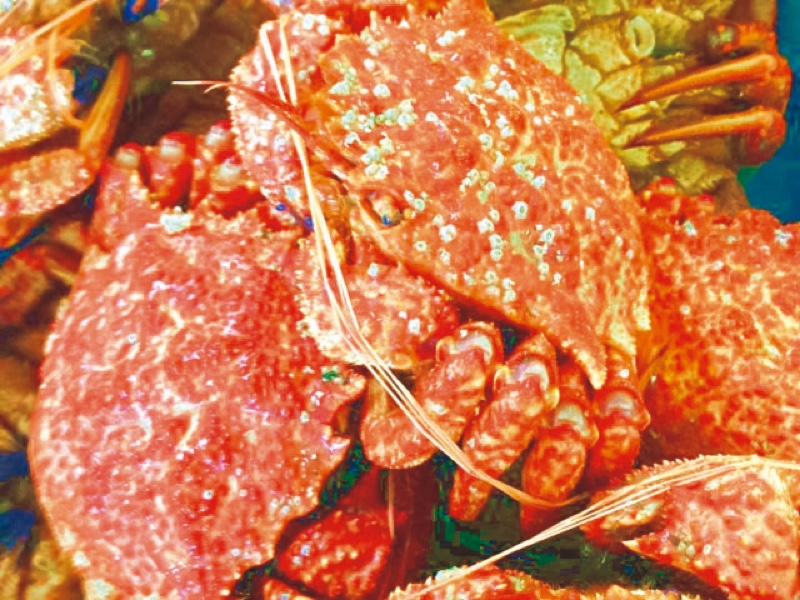 Togekurigani Crab
This helmet crab has the taste of a horsehair crab, mixed with the aroma of the sea. The meat of boiled togekurigani feels fluffy on the tongue and has a rich taste.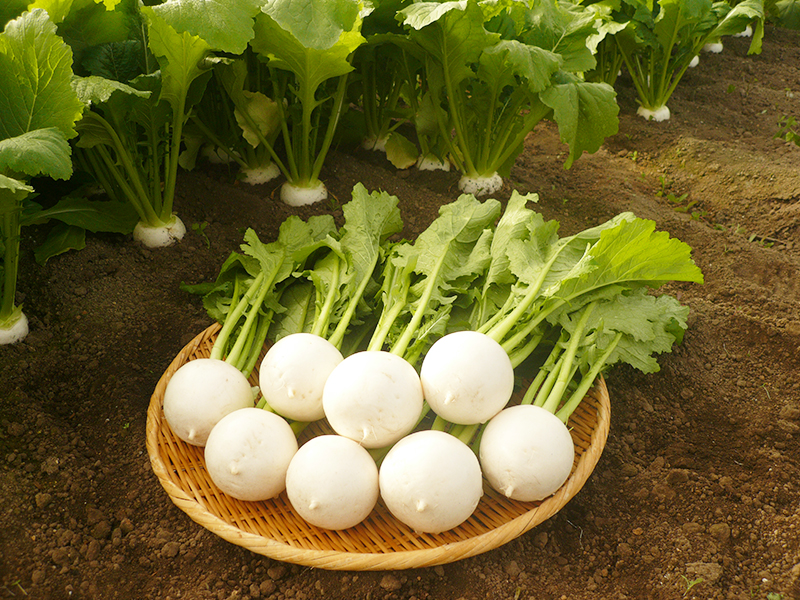 Little Turnips
Its skin is so thin as to be easily peeled. Fresh little turnips can be eaten uncooked.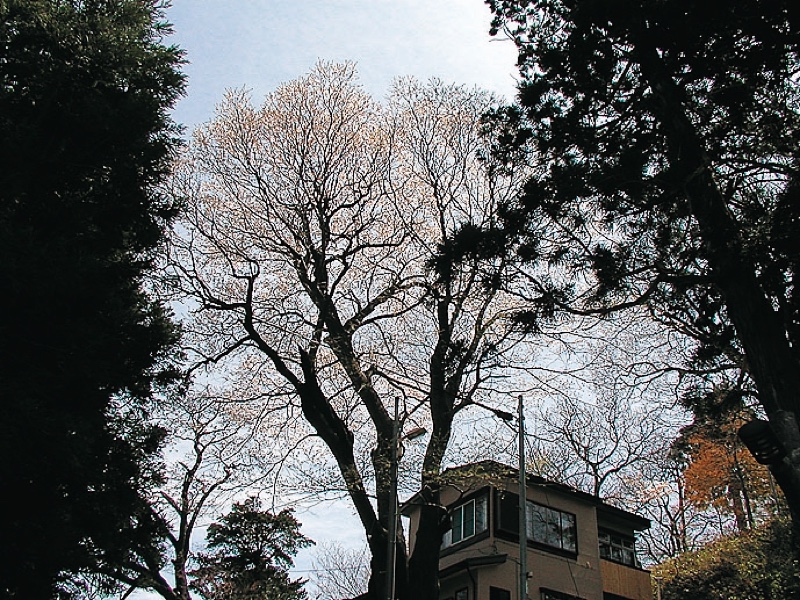 Edohigan (rosebud cherry)
Among similar trees, this cherry tree is located in the northernmost of Japan's main Honshu island. The tree, said to be more than 300 years old, is a natural monument designated by the town office.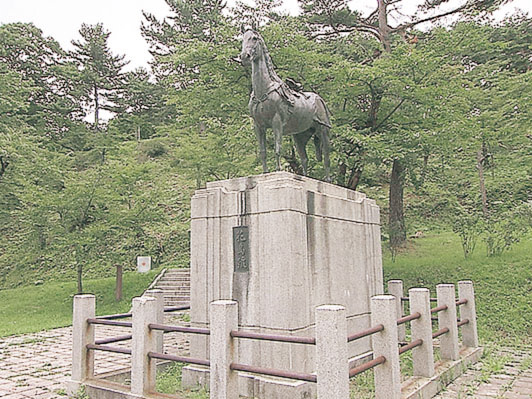 Statue of Kachogo
This statue is designated as a tangible cultural asset by the town office. It is dedicated to the memory of Kachogo, an Imperial horse that died while being used by the Emperor Meiji during his visit to the Tohoku region. The statue stands as a symbol of Atago Park.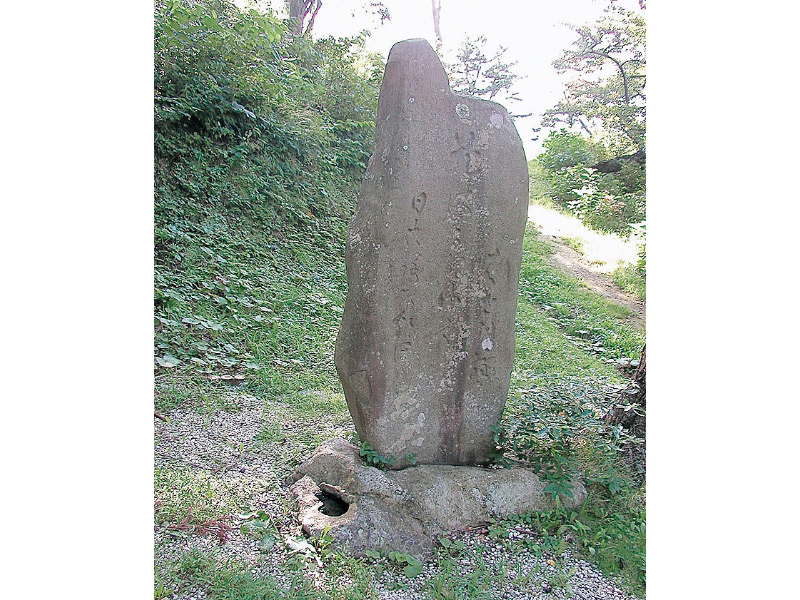 Haiku-inscribed Stone Monument to Matsuo Basho
The monument is dedicated to the memory of Matsuo Basho, a master haiku poet from the early Edo period. It was erected by local Basho admirers.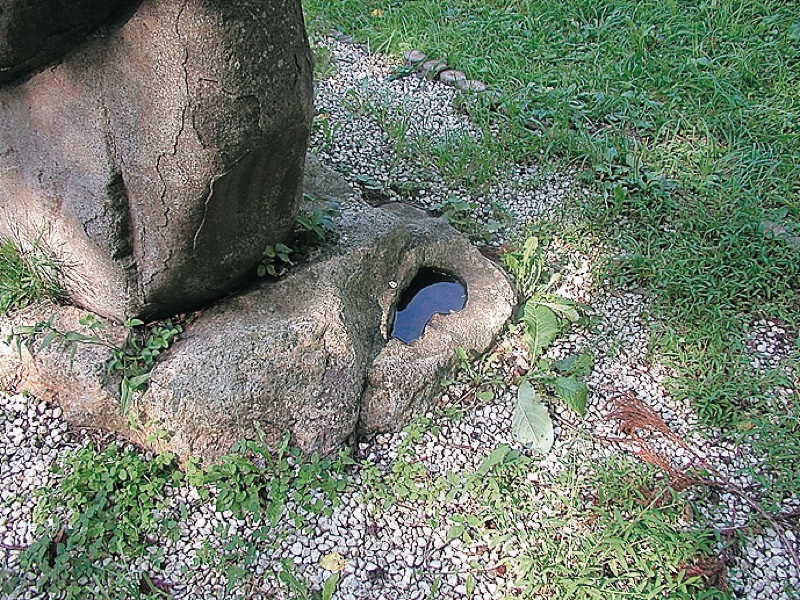 Benkei's Footprint
Legend has it that a dent on the base of the haiku-inscribed stone monument to Basho Matsuo is a footprint left by Benkei, a noted warrior-monk from the Heian period.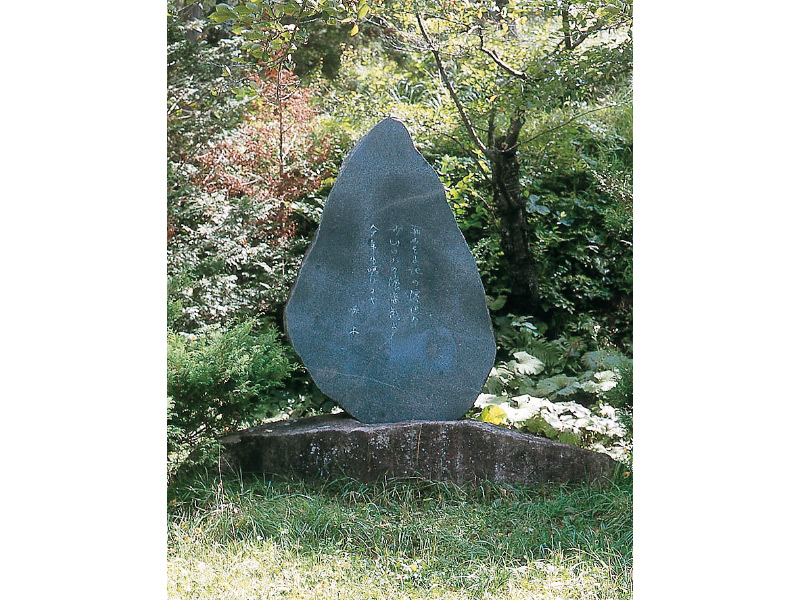 Tanka poem-inscribed Stone Monument to Takuboku Ishikawa
This monument was built to pay tribute to Takuboku Ishikawa, a renowned tanka poet, who had a connection with Noheji. It is inscribed with a tanka poem composed by Takuboku to appreciate Noheji's natural grace.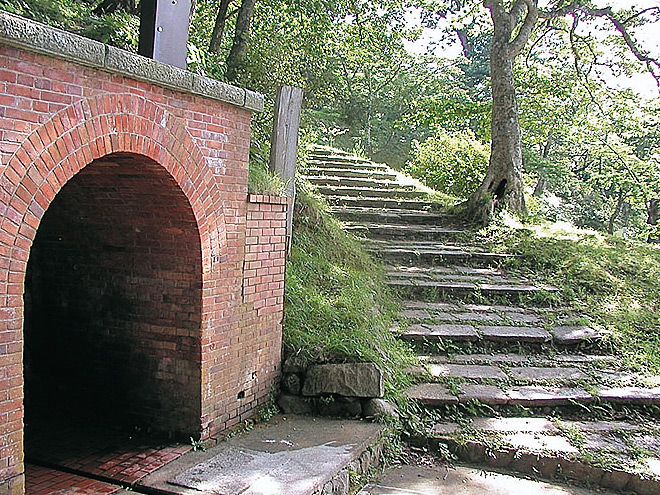 Gozensui and Stone Steps
The Gozensui spring water has long been cherished by local residents. Stone steps in Atago Park, which originate in the town of Tonosho, Kagawa Prefecture, were transported to Noheji by Kitamaebune ships.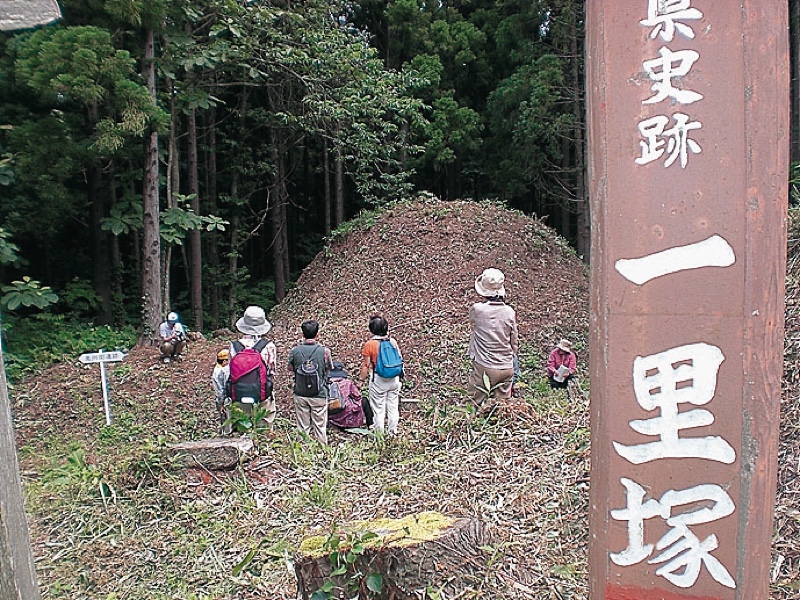 Ichiri-zuka
Ichiri-zuka is a mound-shaped milepost erected along main roads in olden times. Ichiri is a unit of distance equivalent to about four kilometers. This unit consists of 36 cho, each of which measures about 109 meters. During the Edo period, an earthen mound was built with a tree planted in it, at intervals of every ichiri along highways, starting with Nihonbashi in Edo, the central area of present-day Tokyo.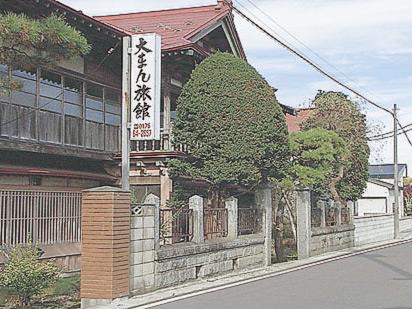 Old Daiman Ryokan
This precious building of a modern Japanese style used to be used as an inn. It was also used as a location for a TV drama titled "Kiga Kaikyo" (Straits of Hunger).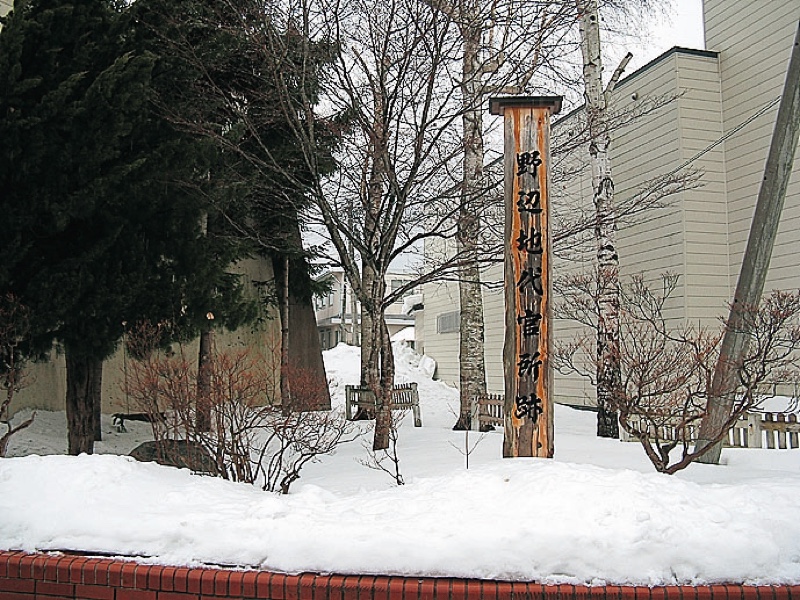 Historic Site of Noheji Daikansho
There used to be a daikansho, or a magistrate's office, at this location, where the town's public hall now stands.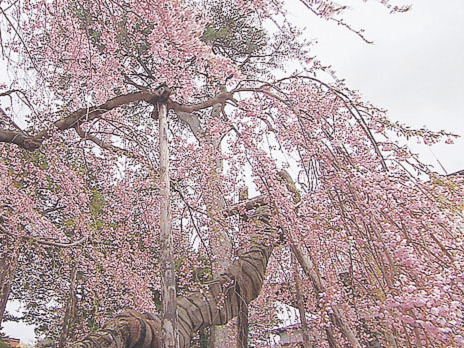 Shidarezakura and Tombstone for Deceased Kitamaebune Crew
Shidarezakura (weeping cherry tree) at Saikoji Temple, believed to be more than 300 years old, is a town office-designated natural monument. Meanwhile, the tombstones erected at the temple are dedicated to the memory of the Kitamaebune crew members who died in maritime accidents or because of disease.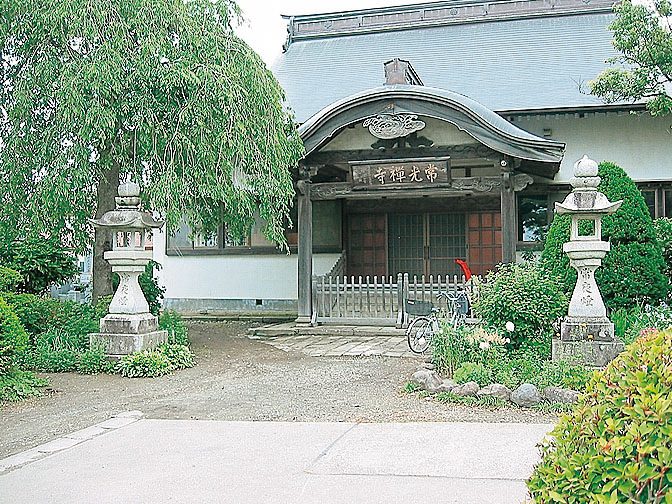 Jokoji Temple
Jokoji Temple is associated with tanka poet Takuboku Ishikawa, whose uncle used to serve as its chief priest.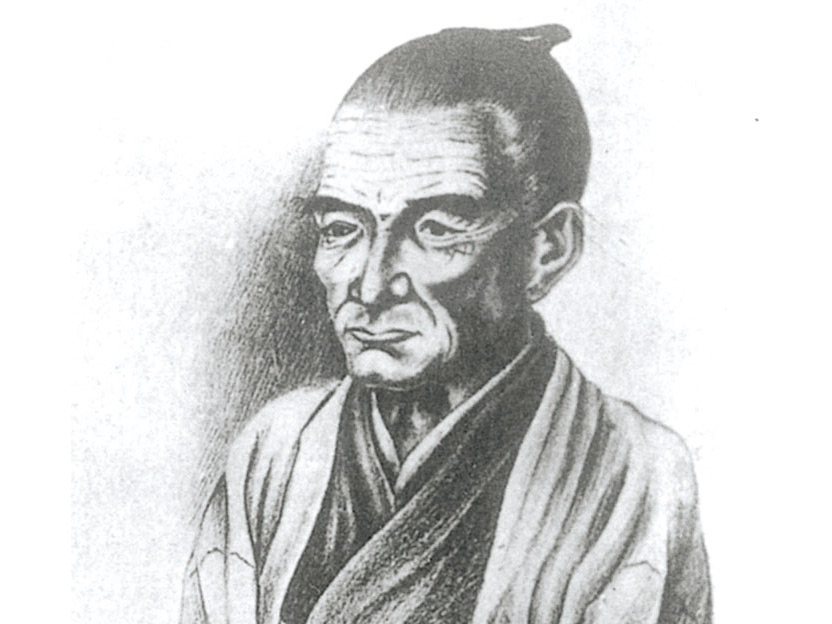 The Home of Mogami Fude's Parents
Fude was the wife of Mogami Tokunai, an explorer from the Edo period and an official in charge of public engineering works under the Edo shogunate.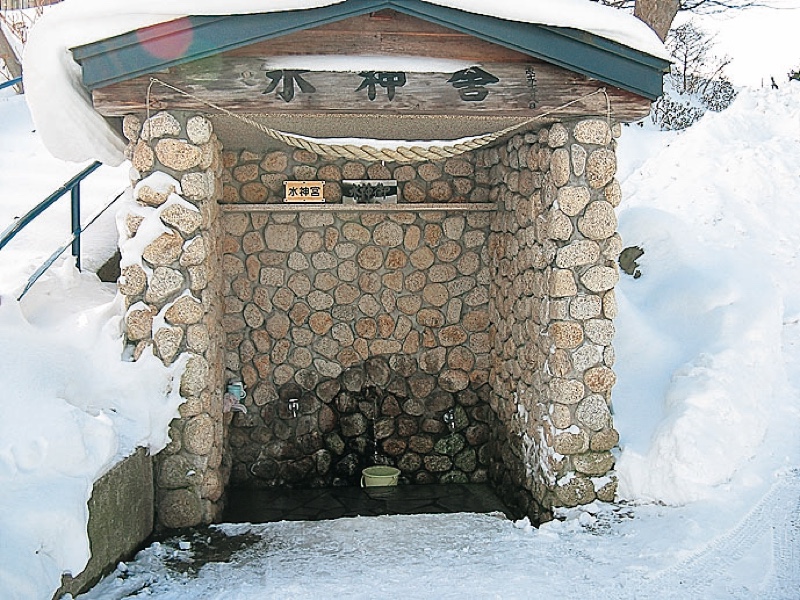 Suijingu Fountain
This spring was used for such important purposes as supplying drinking water to Kitamaebune crew.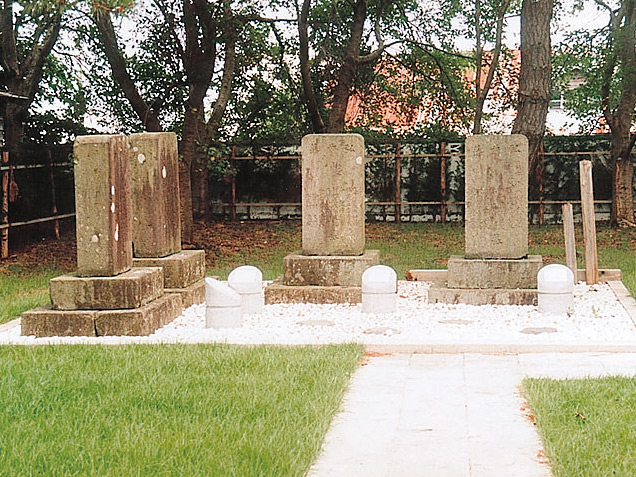 Graveyard for Warriors Killed in The Battle of Noheji
This graveyard, designated as an important historic site by the Aomori prefectural government, honors the soldiers from the Tsugaru clan's army who died in Noheji during the 1868 battle with warriors from the Nanbu clan's army.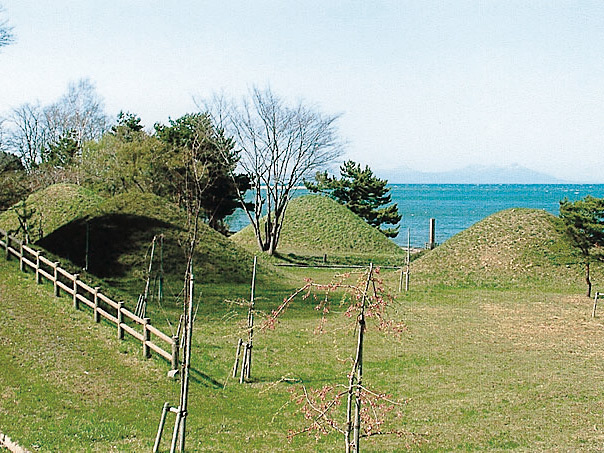 Hankyo-zuka Mounds
Popularly called Yotsumori, these four earthen mounds were erected as landmarks of the Nanbu-Tsugaru domain border during the Edo period.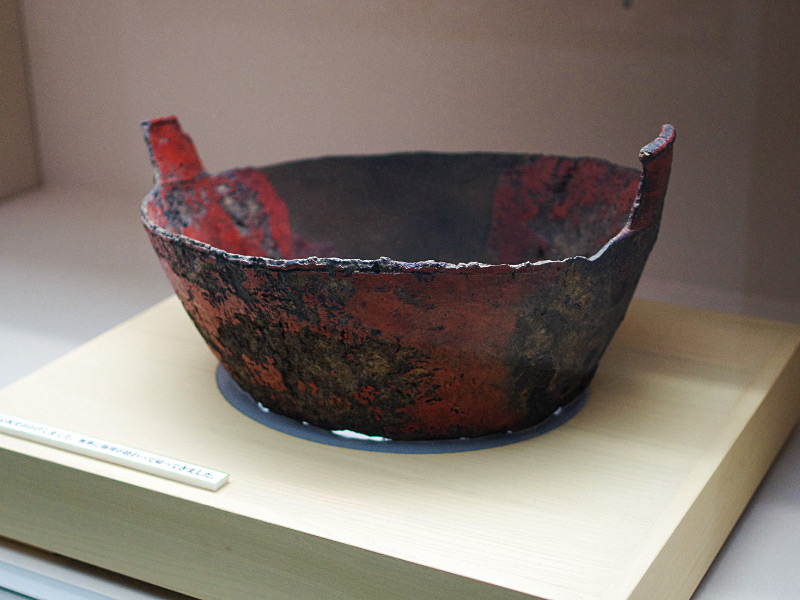 Akaurushinuri-mokuhachi
A wooden bowl from the early part of the Jomon period. The bowl was found at the ruins of Mukaida, and was designated as an important cultural asset by the national government. This ancient bowl measures 42 centimeters in diameter--as incomparably large as any other similar artifact unearthed in this nation.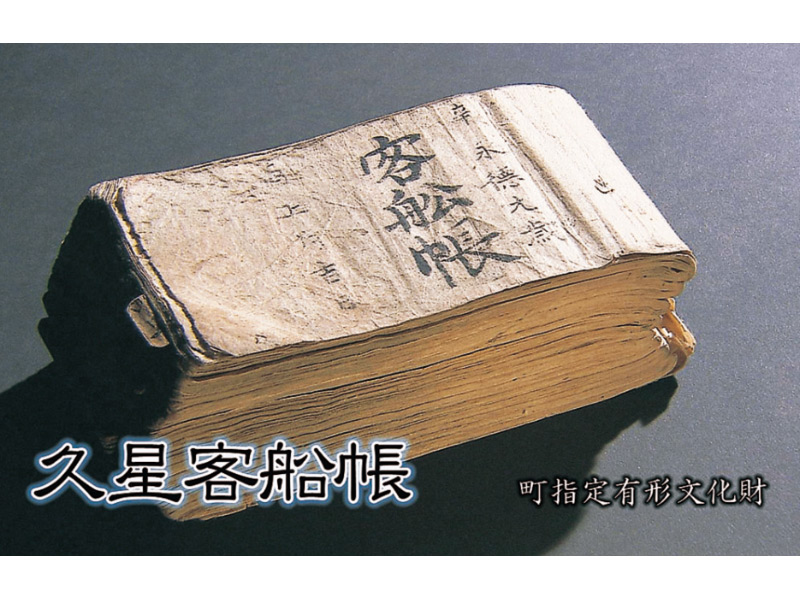 Kyakusen-cho
Designated as a tangible cultural asset by the town government, this notebook contains records long kept by the Igarashi family, who ran an inn for sailors from the Edo period to the early part of the Meiji period. It is highly valued as a precious historical record that offers such information as locations from which ships departed to call at Noheji Port, as well as what kinds of goods were transported to Noheji.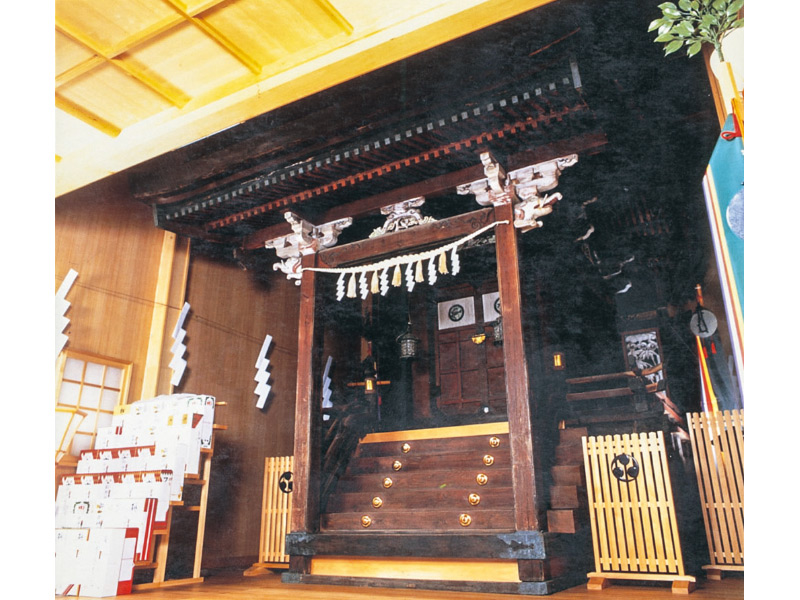 Noheji Hachiman-gu and Kotohira-gu Shrines
The main halls of Hachiman-gu and Kotohira-gu shrines are both prefecture-designated treasures. Kotohira-gu was built with donations from a local kaisen-donya (shipping agent) in 1822, based on a long-held popular faith in Konpira-sama, or a guardian deity of seafaring.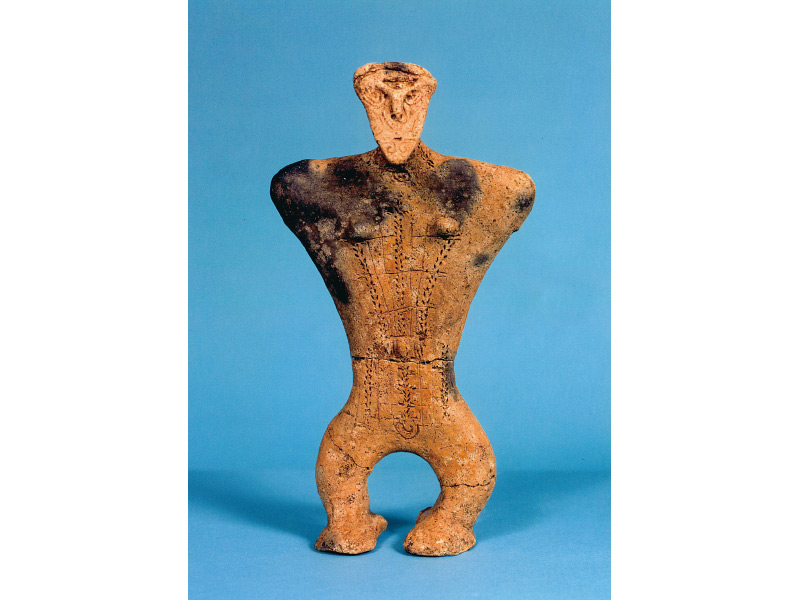 Upright Dogu
Formally called "Itajo-Rikkyaku Dogu," this clay figure has been designated as an important cultural asset by the national government. It is thought to have been produced in the early part of the late Jomon period.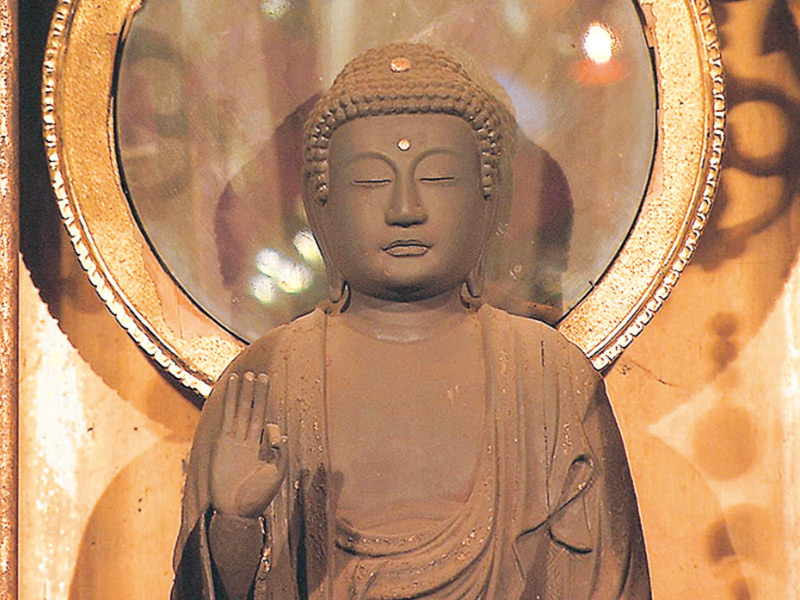 Kibori Amida-nyorai Ritsuzo Statue
This wood carving is a prefecture-designated treasure, and it is the principle object of worship at Fukujusan Kaichuji, a temple of the Jodo sect.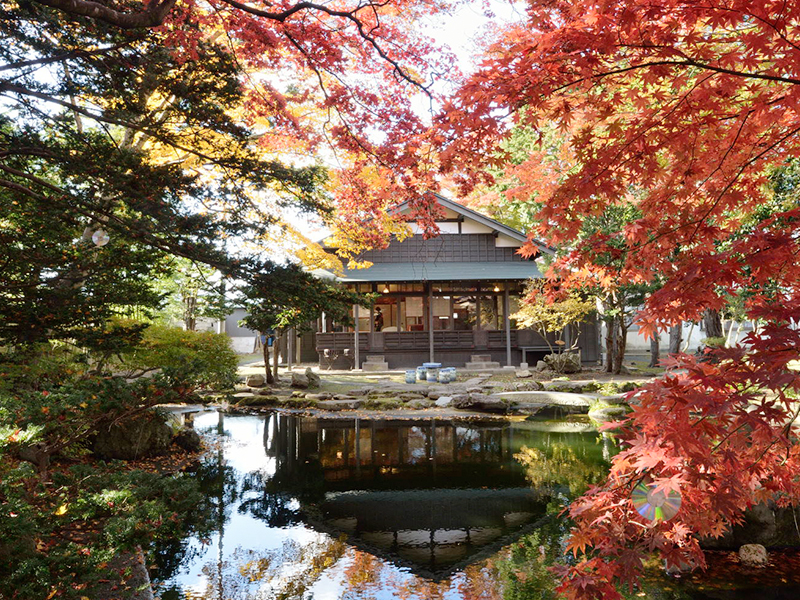 Detached House of The Former Nomura Family
This villa was used by Jisaburo Nomura as a second residence, located on the grounds of the current town hall. During an official domestic tour by Emperor Meiji in 1876, the house was used to accommodate His Majesty during his stay in the town. The residence has been designated as a government-registered tangible cultural asset and building..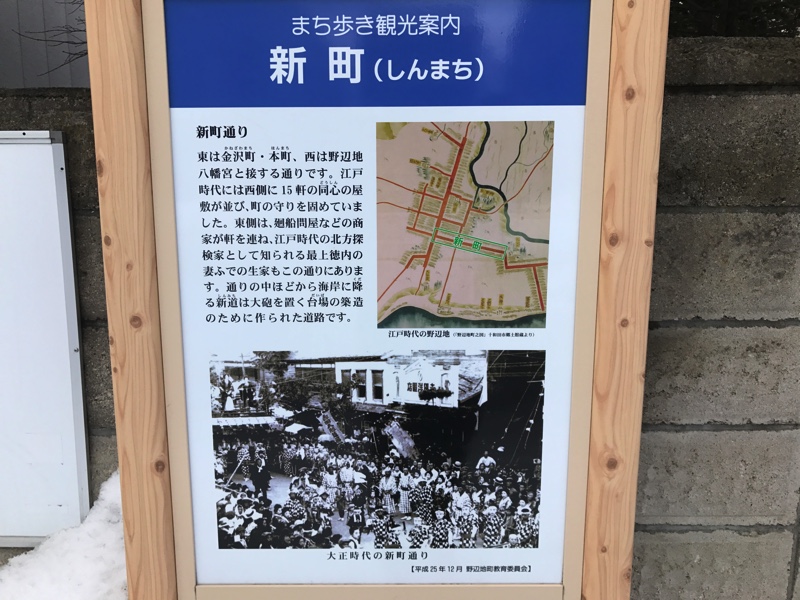 Tourist Information Board for Shinmachi Area
This board provides visitors to the town with a glimpse of its former landscape and history of its Shinmachi area. It also exhibits a photo of the area's landscape in olden days, compared with its current landscape.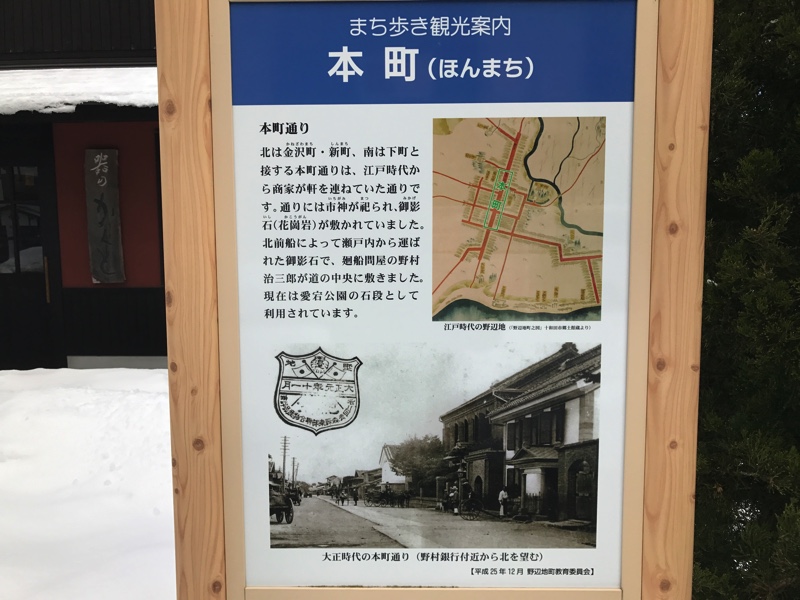 Tourist Information Board for Honmachi Area
This board provides visitors to the town with a glimpse of its former landscape and history of its Honmachi area. It also shows a photo depicting the area's olden days, compared with its current scenery.
Matsuyama Ryokan/Phone:
Ryokan Komai/Phone:
Fujikawa Ryokan/Phone:
Business Inn Club/Phone:
Business Land Horaku/Phone:
Makado Kanko Hotel/Phone:
By Car
Get off at Aomori-Chuo Interchange on Tohoku Expressway, or at Aomori-Higashi Interchange on Aomori Expressway. From there, about 1 hour along National Highway Route 4.
Get off at Hachinohe Interchange on Hachinohe Expressway. From there, about 90 minutes along National Highway Route 45.
From Mutsu area, take Hamanasu Line (National Highway Route 279).
By Train
From Aomori Station, about 45 minutes on Aoimori Railway Line.
From Hachinohe Station, about 45 minutes on Aoimori Railway Line.
From Ominato Station in Mutsu, about 50 minutes on JR Ominato Line.
From Tokyo Station, 3 hours and 20 minutes on Tohoku Shinkansen line. Get off at Shichinohe-Towada Station, and about 20 minutes by car from there.
From Hakodate, about 1 hour on Hokkaido Shinkansen line. Get off at Shin-Aomori Station. Change trains to a local train bound for Aomori Station. From there, about 45 minutes on Aoimori Railway Line.
By Air
75 minutes from Haneda Airport in Tokyo to Aomori Airport. About 35 minutes from Aomori Airport to Aomori Station by bus. About 45 minutes from Aomori Station to Noheji Station on Aoimori Railway Line.
About 70 minutes from Haneda Airport to Misawa Airport. About 15 minutes from Misawa Airport to Misawa Station by bus. Take Aoimori Railway Line from Misawa to Noheji.
About 95 minutes from Itami Airport in Osaka to Aomori Airport.
About 45 minutes from Chitose Airport in Sapporo to Aomori Airport.
About 80 minutes from Komaki Airport in Nagoya to Aomori Airport.
By Bus
From Aomori Station to Noheji Station, about 1 hour and 20 minutes by Shimokita Kotsu Bus.
From Mutsu area to Noheji Station, about 1 hour and 30 minutes by Shimokita Kotsu Bus.
Towada Taxi/Phone:
Jukan Taxi/Phone:
Nihoku Taxi/Phone:
Toyota Rent a Car Noheji Station Shop/Phone:
Free Wi-Fi service available at:
Noheji-machi Chuo Kominkan (central community center)
1-15 Aza-Noheji, Noheji-machi, Kamikita-gun, Aomori-ken/Phone: